Jetsun Darma Ho Lynn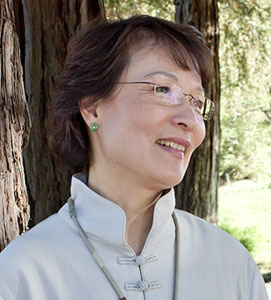 Jetsun Darma Ho Lynn, Master Teacher and spiritual consultant, is here to assist you in your learning. Gifted in Chinese folk culture, esotericism, and customs, her high level of spiritual cultivation has provided support to individuals, universities, corporations, and communities. She is a teacher, helper, advisor, and guide. She expertly applies the principles of Feng Shui, ch'i, I-Ching, Yin / Yang philosophy, Five Elements, Transcendental Solutions, holistic healing methods, divination, and spiritual cultivation (to name a few modalities), to bring improvement and well-being into her clients' lives. She accompanies you with her vast knowledge, wisdom, and compassion, with an altruistic and generous heart.
How her spiritual journey began in 1980 is a moving story by itself. To gain a deeper insight on Jetsun Darma Master Teacher Ho Lynn, read her inspiring article, Living Without a Known Cure.
Jetsun Darma Ho Lynn, Founder and Chairperson of Yuan Yuan Educational Foundation, a non-profit, 501(c)(3) organization, has been dedicating her services to support the foundation's development since 1996. YYEF provides educational programs rooted deep in the Chinese folk cultures and customs, promotes spiritual cultivation rich in the Tibetan Bon lineage traditions. For more information, visit www.yuan-yuan.org.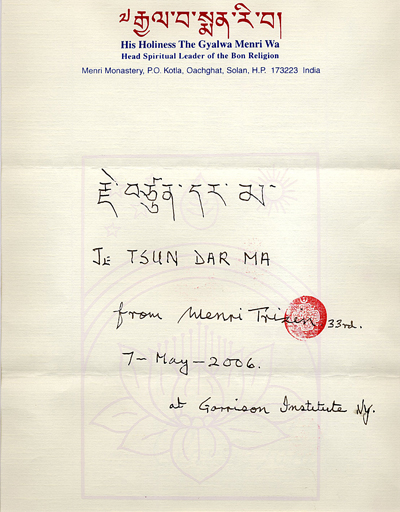 Jetsun Darma, her spiritual name from the Tibetan Bon tradition, (pronounced as རྗེ་བཙུན་དར་མ། Je Tsun Dar Ma in Tibetan),was bestowed upon her by His Holiness, Lungtok Tenpai Nyima Rinpoche, Supreme Leader of the Tibetan Bon religion, worldwide in 2006.
The copy shown here is a scanned copy of the original, with the name written by His Holiness on his personal letterhead.
Each syllable of her name is full of meaning. Je is Tibetan for "master," and Tsun means "purity." Jetsun, therefore, is "reverent, venerable sage." Dar means "young, strong, and everlasting." It also alludes to the name of Nunmo Darden, a female enlightened being in the ancient Bon tradition. Ma is the Tibetan word for "mother." Other than being addressed as Master Teacher Ho, Jetsun Darma's students simply address her as Jetsun Ma, as they feel that she is a loving, mother figure whose compassion helps them to remove obstacles from their lives.